Back to blog list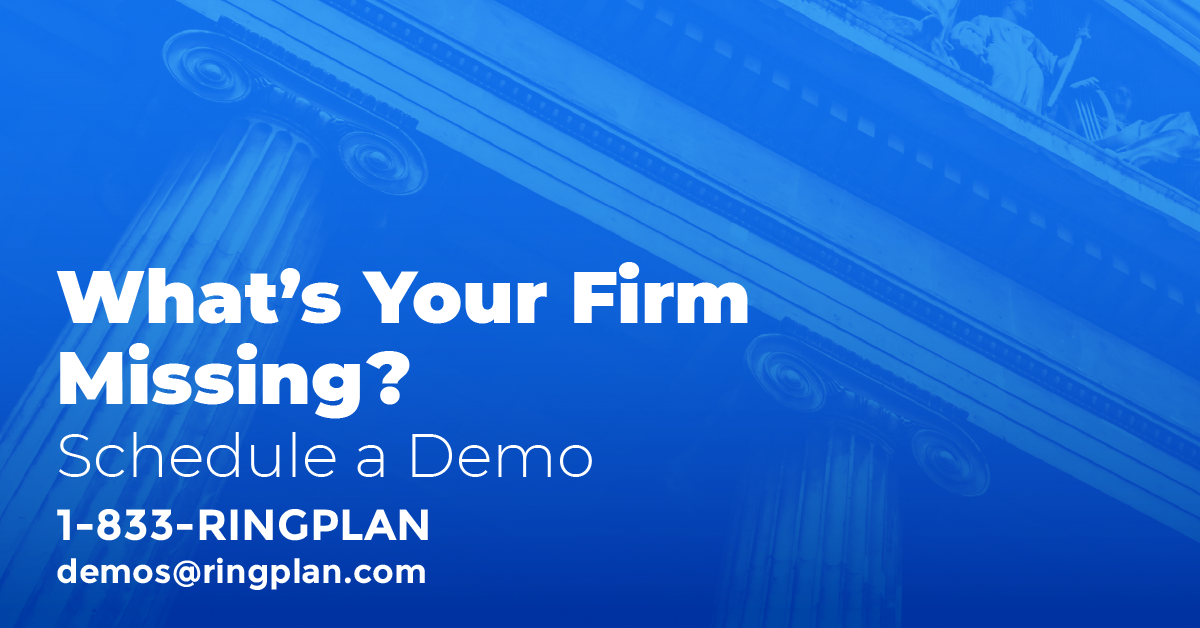 11 Jan, 2021 | voip, VOIP Telephone, Cloud Solutions, internet services, phone services, unified communications, video conferencing, privacy, hosted phone, legal field
Helping Attorneys Adapt to Remote Work with New Technologies
This past year has brought dramatic changes to the legal profession that have directly impacted how attorneys work. Adapting to this new normal is paramount in maintaining attorney-client trust.
Download the presentation by filling out the form.
When asked, attorneys cited several factors forcing them to change their communications platform; a change that if not addressed, holds the potential to directly jeopardize their reputations as agents deserving of others' trust.
RingPlan conducts platform demonstrations to many legal firms that are eager to adapt. These firms are making the switch to a unified communications provider.
Ethical Values Carry Over
Every day, attorneys of all practices are entrusted with sensitive information that often has to be relayed digitally. Trust is the foundation that makes the entire communication process possible.
When a reputation is built on trust, it's not surprising to see owners using that same criteria to evaluate the critical parts and processes of their business, such as selecting a new phone vendor.
In turn, attorneys scrutinize every proposed change to their business when working with vendors. This means carefully reviewing every line of every contract, and searching for potential liabilities.
To finally switch a vendor, attorneys look for partners who can help them honor the trust bestowed upon them.
They will take careful consideration before making any final decisions, typically, more than other professionals we speak with.
The Biggest Trends Shaping Communications
Attorneys are Working Remotely
The legal profession just like many others is going through a major shift. 2020 has been a very trying year for many, as they were forced to quickly adapt.
As more workplaces were forced into working remotely during 2020, the legal profession had to adapt and follow suit.
Although working from home is a challenge for everyone, it is especially true for attorneys who rely heavily on communication technologies like phone, video, text, and fax.
Conducting business as usual remotely becomes complicated without a business phone in every employee's home. Employees are hesitant to give out their cell phones, and in doing so, offices might be on the hook to cover portions of their bills on top of what they are already paying.
Something Has to Change.
With high stakes on the line, attorneys have turned to solutions like the RingPlan System and its Business Phone App. This trusted phone app allowed attorneys to communicate from their mobile device, just like in the office, without using cellular minutes.
They are now able to use their cell phones to make and receive calls, to and from their business phone numbers, including toll-free, while preserving their offices' caller ID and personal voicemail.
By connecting mobile and IP desktop phones, users can take advantage of new and existing technologies around the office to mitigate cost.
Learn About the RingPlan Business Phone App
Attorneys have Security Concerns
With many changes taking place in the world, the attention of many attorneys has turned towards security and liability. Ensuring they can communicate with their clients and partners in a secure way is essential.
Many times, very sensitive information needs to be transmitted either from the office or from remote locations. As faithful stewards of this information, they seek to reduce the amount of risk and liability when transmitting this information.
Attorneys need a trusted solution that helps them honor the very trust their clients place in them. A solution that provides security features built in. They want secure communications platforms.
Features such as security encryption helps to establish this trust.
RingPlan's Video Conferencing solution has End-to-End Encryption that helps many to schedule video meetings, with the security of knowing that no part of their meeting will be stored as it transmits online. Read more about RingPlan Meet's security protocol.
Digitization Is Affecting File Transfer & File Management
The legal profession is moving towards a digital, paperless way of doing business.
Lawyers no longer have to worry about carrying suitcases full of paper. Everything is now being done digitally on laptops.
Attorneys need solutions that can complement these changes happening in the industry.
RingPlan is creating such solutions that makes going paperless easy. RingPlan Digital Fax was created to give attorneys a secure portal to manage how they send, receive, manage, and store fax messages.
Fill Out the Form Below to Download the Presentation:
Technology Continues to be a Major Cost
Technology plays a major role in how the legal field has evolved.
Sure, technology has made things like collaboration easier, but it is also a leading contributor to business cost.
Subscription costs add up when working with multiple providers.
Adding yet another provider can also be tedious and time consuming, giving attorneys another item to manage. Attorneys have therefore been thrilled to discover that RingPlan can provide most of the services they need, under one platform.
RingPlan helps make things easier for attorneys by giving them one place to login for making calls, scheduling a video conference, sending faxes, and managing text messages.
Beyond Features, Beyond Price
Unlike many other professions, attorneys look beyond the typical features and price. Their concern goes deeper than that. They must first establish trust with a provider, before they begin considering their service.
While some customers may start their search looking at features or price, attorneys will carefully review a provider's trust-worthiness first and foremost.
Looking for solutions you can trust? Get a free demo of RingPlan and centralize your business communications under one login, and one low monthly bill.
Like this Post? Subscribe to RingPlan!