Back to blog list
5 Dec, 2022 | call center, call reporting, voip, Cloud Solutions, business services, business strategies, virtual phone, call logs
Introducing RingPlan Premium Reports on Enterprise Phone Plans—Take Meaningful Action with These Call Reports
Looking for ways to make smarter business decisions while optimizing your sales and customer support? RingPlan has an answer and it's called RingPlan Premium Reports.
Tired of scrolling through, trying to make sense of endless call logs?
RingPlan VoIP technology is allowing businesses to make sense of their call data with Premium Reports, an advanced feature only available on RingPlan Enterprise phone plans.
See the List of Available Phone System Reports
RingPlan Reports Go Further Than Ordinary Call Reports
RingPlan is changing the way Enterprise phone customers are accessing their call data to make important business decisions.
While customers can easily see important stats on their Customer Dashboard such as basic call information, call sources, extensions, hardware, and call summaries, users can now also access premium reports to analyze deeper data hidden within their business phone system.
A glimpse of the RingPlan Dashboard, available at my.ringplan.com.
Advanced Reporting Leads to Meaningful Action
By analyzing their Premium Reports, businesses may find issues such as unanswered calls, long wait times, impacted extensions, dropped calls, and more.
RingPlan reports go into deeper details on calls made and calls received with reports such as inbound DID reports, queue reports, and more, while also providing ways of addressing these issues with new services.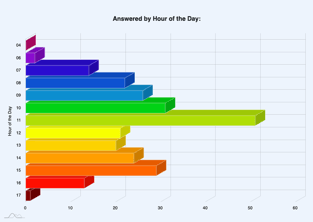 RingPlan is actively prescribing solutions for customers looking for an audit of their call strategies.
Solutions range from dial plan adjustments to a Flash Operator Panel for power users, and even a virtual call center solution to absorb call overflow.
Example Reports - Queue & Timeline Report

Example Report - Queue Reports
In the example above, and working with a VIP Customer in the medical field, RingPlan Reports uncovered a huge amount of unanswered calls (92% unanswered) at two very important extensions. Leading to a loss of revenue and a drop in customer satisfaction.

Example Report - Timeline Reports
The Timeline Report then helped the customer discover where the company's efforts were being placed on a daily basis to find scheduling opportunities to take on unanswered calls.
Custom Analysis of the Raw Data Allowed Call Managers to Analyze the Situation
Upon further analysis of this data, RingPlan Call Managers found that this VIP Customer attempted to address the situation internally with some success, but eventually turned to RingPlan's Virtual Call Center for help.
---
End Results:
Within the first month of activating two RingPlan Virtual Call Center agents, the Customer raised their answer rate from 8% to 75%, helping to improve sales and customer satisfaction.
This translated into 20% more evaluations scheduled in just the first month compared to the previous month, 35% more evaluations scheduled than their annual monthly average.


Schedule a RingPlan Demo

List of Premium Phone System Reports Available From RingPlan Enterprise
---
Rep Answered Call Report

Manage your representatives, and access the date of each inbound, outbound, and all queued calls.

---

Inbound DID Report

Shows You what's going on with your marketing. Data is organized by date and even hour. Organize your data by date to see which numbers are getting the most calls.

---

Queue Reports

Especially helpful for call center managers, managers can access information on calls arriving in each individual queue, along with successful connections and drop-offs. Break down the information by agent, date, and time.

---

Queue Log In/Out Reports

See which agents are logged in, what time they log in and log out along with total time logged in.

---

Queue Service Level Report

Runs your metrics to see if you're making it within your service level, runs within 60 seconds.

---

Rep Timeline Report

A visual representation showing what agents are doing on a regular basis. See your agents' activities on a single sheet from talk time to time in video meetings.

---

Conference Bridge Report

+More

See the report for each conference call. See which individuals are attending conference calls and who is missing out.

---
RingPlan Reports may describe details such as which employees are performing the best, where gaps may exist in call strategies, where calls may be dropping off, and more.
---

"RingPlan Reports let us go further by addressing some of our customers' top concerns, often uncovering issues they aren't even aware of."


—Jacob Hansen, President ZTelco Communications
---
Conclusion

Businesses looking to make informed decisions about their call strategies turn to their call data to make important business decisions and are often left scrolling through endless pages of call logs, only accessing basic call stats.
Today RingPlan customers can get more meaningful data through the use of a new reporting feature on the RingPlan Enterprise Plan called RingPlan Premium Reports.
RingPlan Premium Reports are helping customers discover more about their business with 10 reports available out-of-the-box with RingPlan Enterprise plans, along with other tools users can deploy to help manage phone communications.
Included reports include a Rep. Answered Report, Inbound DID Report, Queue Report, Queue Log In/Out Report, Queue Service Level Report, Rep Timeline Report, Conference Bridge Support, and more.
ZTelco is now helping RingPlan customers by addressing the issues they are uncovering with RingPlan Reports.
Solutions range from dial plan adjustments to a Flash Operator Panel for power users, and even a virtual call center solution to absorb call overflow; from part-time call staffing to full virtual call center teams, RingPlan is helping customers resolve call strategy issues, and helping them staff new ones.
Like this Post? Subscribe to RingPlan!